Bona Stone, Tile & Laminate Spray Mop Kit
New and improved Bona Premium Spray Mop. The re-designed mop offers faster and easier cleaning with an extra-large mop head, a soft-touch trigger spray and a comfortable grip handle. Included is a new full-size cleaning cartridge and microfibre pad.
The Bona Spray Mop is consistently voted one of the worlds best spray mops and is available in over 90 countries worldwide. The Stone, Tile & Laminate Spray Mop Kit is specifically for use on hard surface floors. Forget about filling up a bucket. Just spray and clean!
The Swedish designed Bona Hard Surface Spray Mop kit is ideal for use on vinyl plank, stone, tile or laminate floors. It comprises a sturdy trigger handle and swivel mop head, a microfibre cleaning pad and an 850ml refillable cartridge of Bona's award-winning Stone Tile & Laminate Floor Cleaner. Simply open the box, click together and you are ready to go. The microfibre pad picks up dirt and moisture to remove stains, dirt and grime, and is machine washable to use over and over again. Bona's world-leading stone, tile & laminate spray mop will make short work of cleaning any of your hard surface floors.
Quality world-leading Swedish design
Specially developed for vinyl plank, stone, tile & laminate floors
Refillable cartridge saves money, refills from bulk container
Streak free cleaning makes floors look pristine
Rotating mop head for ultimate reach in difficult areas
Microfibre dual action cleaning pad
Quick & simple to use with minimal effort
Sturdy well made handle and trigger grip
Stone, Tile & Laminate Mop Kit Includes
1 x Bona Spray Mop
Easy and simple to use, the Spray Mop has an integrated 850 ml cleaner cartridge and trigger spray function. The cleaner cartridge can be refilled from the 2.5 litre bulk refill pack or replaced with any of Bona's other cleaning cartridge range.
Handle length - 135cm
Integrated spray trigger and cleaner cartridge with cleaning solution
Rotating mop-head for ultimate reach in difficult areas
1 x Refillable Bona STL Cleaner Cartridge - 850ml
850ml refillable cleaning solution cartridge of genuine Bona award winning non-toxic floor cleaning solution. No mixing or diluting - ready to go. Bona's Stone, Tile & Laminate Cleaner is water-based, pH neutral and Greenguard certified, specifically designed for cleaning stone, tile & laminate floors.
Cleaning solution made in Sweden
Specially developed for hard surface floors
Use on Vinyl Plank, Stone, Tile and Laminates
Water-based, non-toxic, Greenguard Certified
Ph neutral formula doesn't damage floor finish
Powerful cleaning with little effort required for maximum result
Dries fast, floor is ready to walk on in minutes
No dulling residue, enhances the natural sheen of your floor
1 x Bona Microfibre Cleaning Pad
The Bona Microfibre Cleaning Pad is a washable pad which attaches with velcro-like strips to the Mop head. The cleaning pad features a unique design with dual zone action. The dark blue outer fibres break up grime while the light blue inner fibres trap and absorb dirt and leave no residue behind.
Microfibre dual layers pick up and trap moisture and dirt
Eliminates dust, decreasing airborne allergens
Machine washable and reusable up to 300 times
Gentle on your floors, won't scratch or damage
How To Assemble Video
How to Assemble Bona Spray Mop
Watch how easy it is to put together and use your Bona Spray Mop. 3 easy steps and you are ready to go!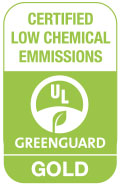 Greenguard GOLD Certification GREENGUARD GOLD low VOC chemical emissions, improved air quality. Safe for use around family and pets.